Last night it was Maia's turn to cook supper. Maia loves soup (which is really quite funny, because for a number of years I could hardly get her to touch the stuff! So for those of you with "picky eaters," there is hope for you - and them - yet!) and so, last night she chose one of her favorites. Maia likes potatoes in her soups, so she added those to my recipe. Here is her menu:
Italian Lentil Soup
Corn Muffins
Fresh Cantaloupe
Italian Lentil Soup
2 c lentils, rinsed clean
8 c water
4 T Instant Veggie Soup Mix (recipe follows)
1 med. onion, chopped
2 stalks celery, chopped
2 carrots, sliced
2 or 3 med potatoes, diced (we used Yukon Gold)
4 cloves garlic
2 c fresh or 1 can diced tomatoes
1 t dried mustard
1 t thyme
fresh, ground pepper, to taste
2 T red wine vinegar
Place cleaned lentils in a large pot. Cover with water and whisk in soup seasoning. Bring to a boil and then reduce heat to simmer, covered, for 30 min while you prepare the rest of the ingredients. Add the rest of the ingredients - except for the wine vinegar - , as they are prepared, to the pot. Total simmering time should be about an hour. Just before serving, add the wine vinegar.
Note: Another yummy addition is to add chopped kale or

swiss

chard to the pot about 5 minutes before serving, adding the vinegar, again, last, after the greens have had a chance to cook down for about 3 minutes.

This soup freezes well and leftovers are just as yummy the next day!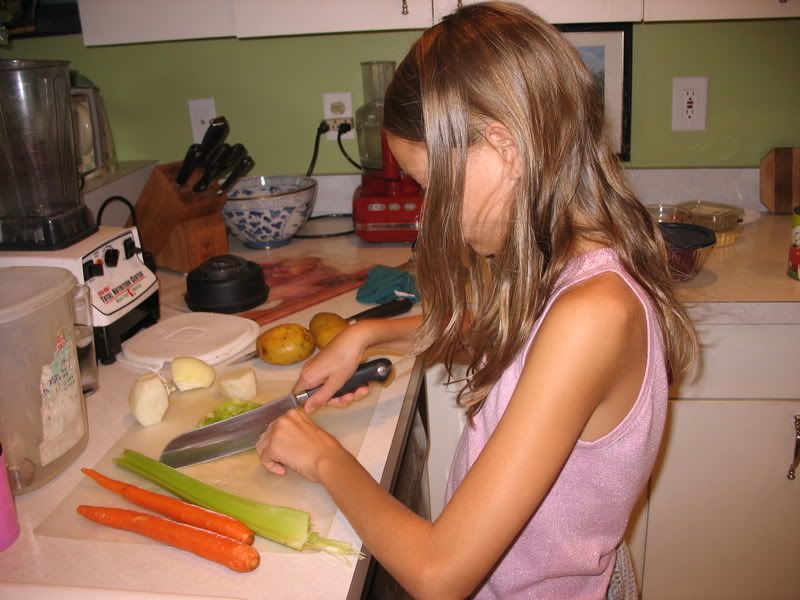 The meal doesn't ordinarily take too long to prepare, but Maia received lessons in using knives last night, under my close (close,
CLOSE
) supervision! Hence, a 1-hour-to-prepare meal, finished in about 2 hours! But,
a) we are learning!
b) we now know to start earlier next time
and
c) everything tastes even better when you are really hungry!! :)
The beat-up, kind of icky looking bucket in the photo here is our compost bucket. It has a lid and resides in our freezer to keep fruit-flies away. When it's full, out to the pile we go and then start all over again. We've had this same , inexpensive bucket for about 6 years now.
A few tips when cutting with knives:
*Always make sure your blades are nice and sharp.
*Curve your fingers, as though you are "clawing" the food, to keep finger tips away from knife blades (Maia is showing this well in the first photo).
*When you want to slide ingredients away from you on the cutting board or from the cutting board into the pot and you use your knife, be sure to flip your knife over and scrape with the top of the blade to avoid dulling your knife.
My Nutritional Yeast Instant Soup Mix was a "Works-for-Me-Wednesday" post last year.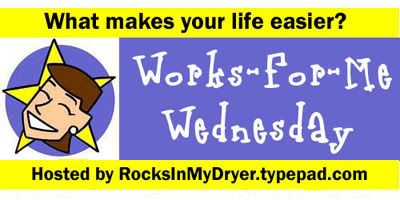 This is my first "Works-for-Me Wednesday" post and...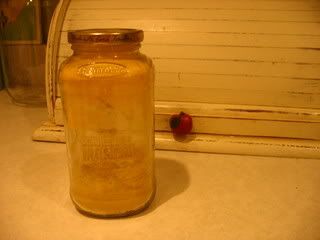 how's

that

for a gorgeous picture, eh?

But truly, the little contents of this jar have saved me many-a-meal or trip to the grocery store, have changed lackluster soups or savory pot pies into, "Mama, this is

SOOOO

good!", and is used so often around

Golightly

Place, that I thought it should be the premier item that works for me!

This is a picture of my jar of soup seasoning. The recipe is adapted from a couple of different cookbooks. The salt has been lowered and could be lowered still. It is completely vegetarian and contains no

msg

. The ratio for use is simple: 1 1/2 teaspoons for every cup of water you use.

Try cooking your brown or wild rice in this broth for a rich, savory side dish with sauteed mushrooms, onions and garlic. You can even use it just for broth when there are upset tummies in the house. Starting with a few

sauteed

onions, carrots, and celery, you can add this broth, toss in a few noodles of choice (my girls like the little alphabets), and you have a healthy, quick,

homemade

soup at lunchtime.

If you are vegetarian, like me, this is a great substitute for chicken broth in any recipe that calls for it. So, try it out. Play around with the amounts you add to recipes. You can multiply this recipe easily, since the ingredients will not go bad and it does not need refrigeration.

The first ingredient, Nutritional Yeast, is easily found in healthy food stores - usually in the bulk foods area. That is the only ingredient for which you may need a special trip. So, buy a bunch and put it in a big, air-tight container for this and other recipes that call for its rich, almost cheesy flavor.

I hope you enjoy it if you try it. It definitely works for me!



Nutritional Yeast Instant Soup Mix





1 1/3 c nutritional yeast flakes




1 T onion powder




1/2 t turmeric




2 t garlic powder




1/2 t celery seed




2 t dried parsley




2 T salt




1 T paprika



Blend on high in blender or food processor until ingredients are fine. Let it sit for a couple of minutes to let the ingredients settle. Keep in a jar or other covered container and store wherever you keep your other dry goods






Maia's Corn Muffin recipe came from Mollie
Katzen's
wonderful cookbook for children,
Honest Pretzels.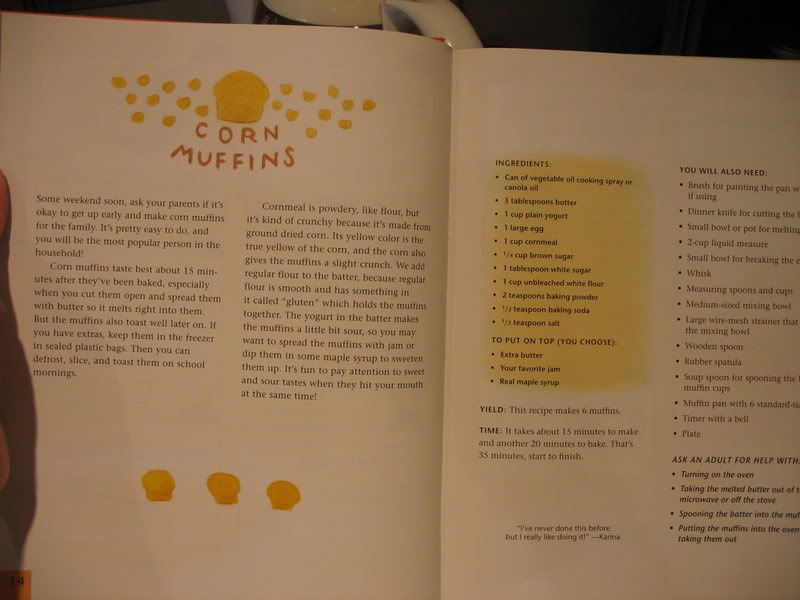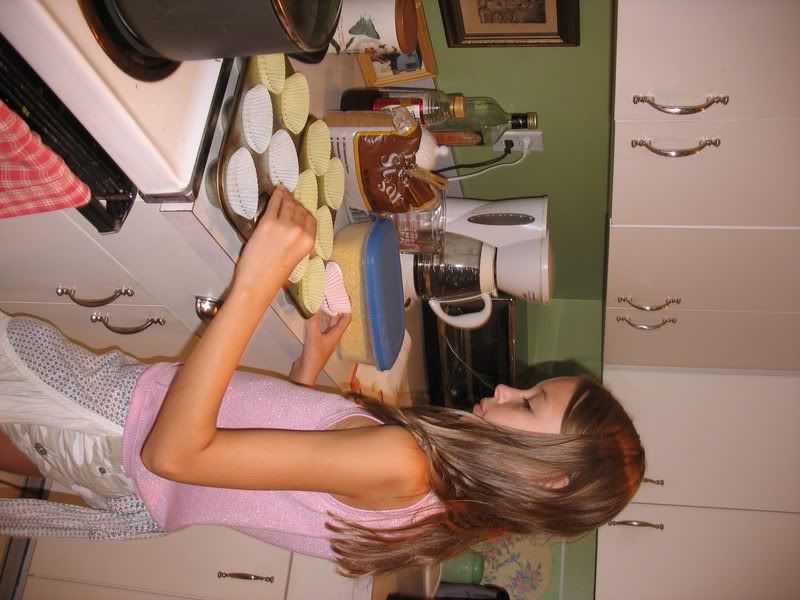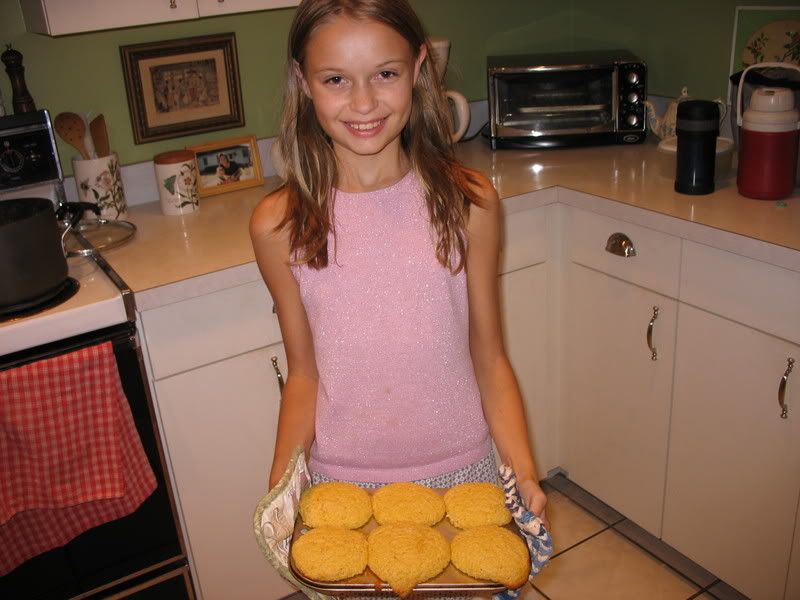 The muffins were crisp on top and
sooooo
yummy! It was a terrific meal! Maia was pretty tired after her 2-hour stint in the kitchen and sat down at the table with a very similar sigh to the one I often give once you actually get to sit down. :) Similar to getting to the end of a race sometimes, I think! I know the girls are gaining an appreciation of the things I do every night and may be more inclined to hold their tongues if everything doesn't always suit their taste buds! We actually haven't had to deal with that for some time now, but there certainly was a period in which this was an issue. I'm sure many of you can relate. Their little taste buds change, though, as they get older and I am always doing a little victory dance inside when dishes once refused are now enjoyed with pleasure!
We have a dentist appointment to get to this morning, so I will have to share the chore chart ideas and the salsa recipe in my next post. But I haven't forgotten!
Hope you all have such a nice day!