I was feeling a bit restless today, so I thought I'd bring you along on a walk with me. I'm a bit "in limbo" right now: we are almost done with school, which means we just have to read a few more things, I finished the drawing of Eve and the tea party and I don't really want to begin any other big project (such as painting the table and chairs - which are, by the way, Jessica, right now a
veeeerrrry
light blue and will likely become just a tad darker, because those were my exact thoughts too!), because on Wednesday we have an early flight to my home state of Minnesota for the birth of my sister's first baby (not scheduled... but hopefully we all won't have to wait
too
long) and we will be gone for 10 days.
I am a project-oriented gal and my husband is the same. My brother one time called us, "industrious." I'm sure the story is similar for many of you. I have trouble just sitting still and relaxing; I like to "accomplish something" every day, whether that be an art project started, finished, or just worked on, cleaning and organizing, cooking a special something for my family, running errands or whatever. And, usually, like most Americans, I have a plate that is too full and I am longing for the days to do "nothing." But... not really nothing, because, usually what I mean is, "do what I want to do" which often has to do with art, or bike riding with my family, or gardening, reading, or the like.
Every once in a while, though, I end up with a day like today. I have finished my books. I have finished my projects. Paul had gone golfing. The girls were playing outside. We took a long bike ride yesterday. I had already made more peanut butter and messed with two blenders because my Vita Mix (!!) overheated and so, I was not interested in going back into the kitchen and making another big mess with cookies, as I had planned earlier. I was a bit discontent (I hate that) and restless.
So, I gathered the girls and called the time for the walk. Even that seemed to be a bit ordinary... um same-old, same-old... okay...
boring
to me (and I hate that word too). But the grass is always greener, right? So, for those of you who haven't walked up and down my street with me, I thought I'd take a couple of pictures outside my home.
Here are the girls on the way back home. We often just walk one direction and back, because a full loop is a longer walk and we all have to be in the mood for that. The girls are playing with some little dolls riding on animals. They bring some sort of toy for nearly every single walk and are in their own world with them every day.
It is
"lovebug"
season here in Florida. Those of you in the Gulf states probably know what I am talking about. These bugs emerge twice a year for about a two-week span. They are called "lovebugs" because they are nearly always floating around in mating pairs. They don't bite or anything, but they are
everywhere
- sometimes and some places, thicker than others. It is usually worse in the country and my guess is that's where this guy had been, because they are usually all over the fronts of cars and trucks and can mess up your paint job if you don't get them cleaned off pretty quickly.
Back home to Golightly Place: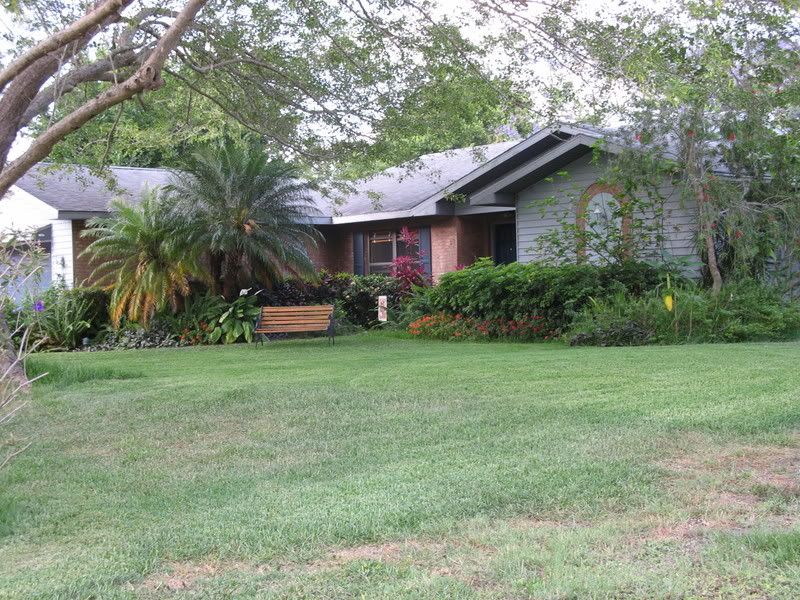 The blue flowering plant (I forget it's name) was just trimmed in March before our family came for a visit. Things grow, um... pretty fast around these parts! :)
The passion fruit vine is starting to take over the corner of the house. I love the flowers, but haven't seen - nor do I expect - any fruit. I do hope it grows up and over the garage. I know it's not the best thing for a house... but it's so romantic. :)
Not the best shot here, but right by the front door, my gardenia that I got last September for my birthday is blooming. Such an intoxicating scent. Even though it is small yet, it packs an aromatic punch!
Around the side of the house we arrive at the back yard. The garden beds are looking pretty pitiful right now. We're going to try solarizing (covering them with clear plastic over the hot, summer months) them to kill the suspected nematodes that are causing us trouble. So I will be living vicariously through all you more northern gardeners these summer months until the fall! For the curious, the tree behind the garden is our very large and prolific orange tree. Tiny green babies are beginning to appear...
Standing at the corner of the house by the garden, you can see that the Jacaranda tree is still going strong in her lavender bloom.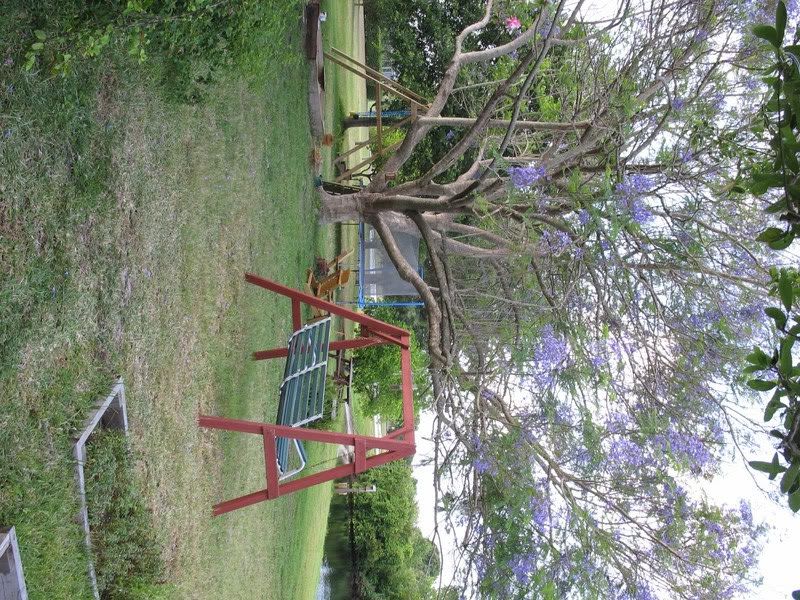 Maia and Eve made a "bug hotel" for the lovebugs here under the tree.
See, there is one little guest under the blade of grass!
Before I go today, I wonder if I could get some suggestions. Seeing as I am at the end (and potential beginning!) of so many things, I was wanting to begin a new Bible study for the summer. Some I have already done and enjoyed are two Beth Moore studies,
A Sacred Romance
, and
Experiencing God
. I particularly love Beth Moore's work, but I sense she is more fitted for group studies and seeing as I am not in a group at the moment, I am looking for a study I can do independently - that may include a workbook - that I can start this summer. Any suggestions are welcome!
Finally, for all of you who have trouble just "being" sometimes like I do (though I do work on it), I leave you - and me - with a really beautiful reminder. A poem. A favorite of mine, tacked on my inspiration board in my closet.
Camas Lilies
Consider the lilies of the field,
the blue banks of camas opening
into acres of sky along the road.
Would the longing to lie down
and be washed by that beauty
abate if you knew their usefulness,
how the natives ground their bulbs
for flour, how the settlers' hogs
uprooted them, grunting in gleeful
oblivion as the flowers fell?
And you - what of your rushed and
useful life? Imagine setting it all down -
papers, plans, appointments, everything -
leaving only a note: "Gone to the fields
to be lovely. Be back when I'm through
with blooming."
Even now, unneeded and uneaten, the
camas lilies gaze out above the grass
from their tender blue eyes.
Even in sleep your life will shine.
Make no mistake.
Of course
your work will always matter.
Yet Solomon in all his glory
was not arrayed like one of these.
- Lynn Ungar