Randi, over at
"i have to say..."
is sponsoring a "Let's Get Real Monday". Her theme for today is "One Day."
I tracked my day yesterday, Sunday. Sundays are quite a bit different at my house now than they used to be, since I am not going to church in a building anymore. I am still trying to observe my Sabbath, but as you'll be able to see, I didn't do that completely yesterday!
My morning starts off with this view from my bedroom, which I am looking at right now as I write this piece.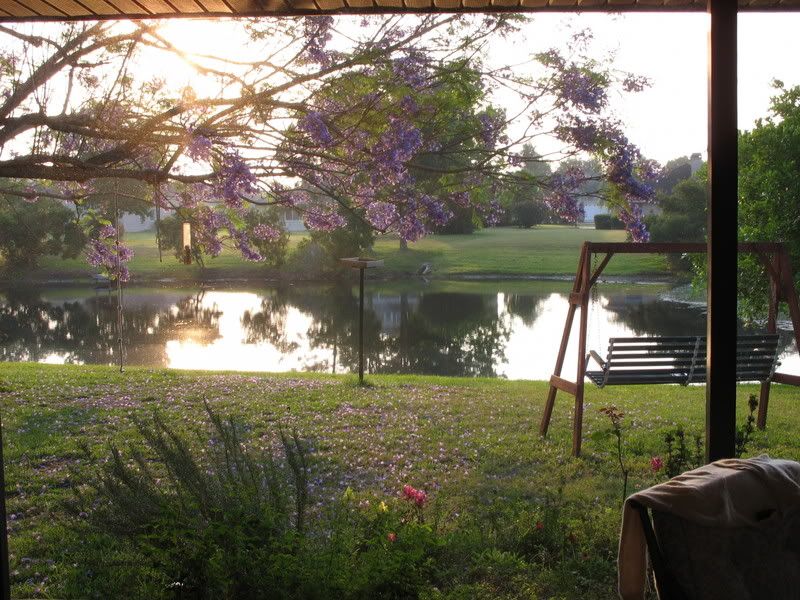 I give thanks.
The Jacaranda tree is in full, gorgeous bloom right now. You can see in the photos that our back yard is scattered with purple blossoms. A close up of these beautiful clusters is on my May Day post, just a couple of posts down. They have no fragrance, but are so pretty and remind me of one of my favorite flowers that all of my northern friends should be enjoying now or very soon: lilacs. Except they're more like lilacs on steroids, because they are huge! :)
I popped in this tape and did about a half hour of yoga. I'm currently doing this every other day and am working up to a daily practice. I love the way I feel after warming up my body and getting it ready for the day.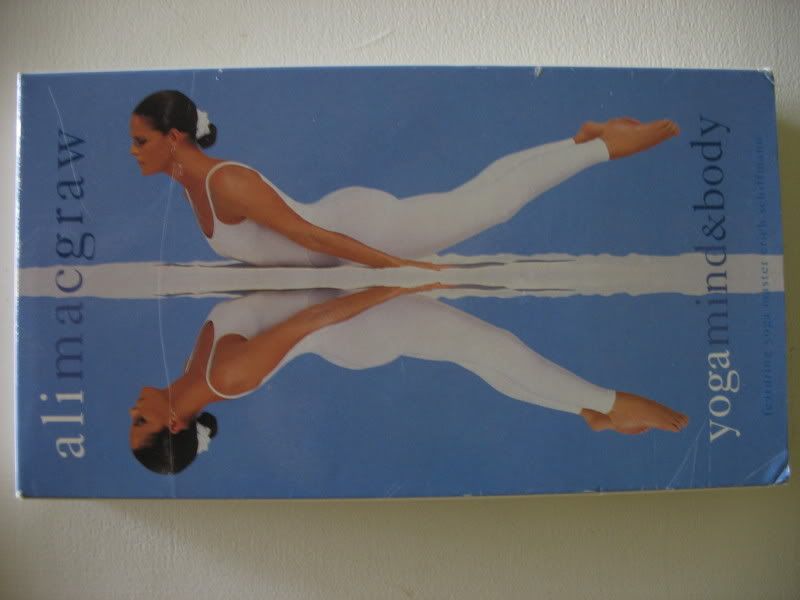 I know that some Christians are opposed to/afraid of yoga. I am not. I spent 10 years away from Christ as a pagan/new age practitioner. I know what there is out there (certainly not everything, but enough) and I know enough about the Truth to not be afraid. I can take my body through the stretching movements that originated as a salute to or worship of the sun (Sun Salutation), without actually worshipping the sun, because those movements are a whole-body stretching routine that leave me feeling peaceful and invigorated at the same time. Yes, its roots are in something I do not believe, but so are Christmas trees, the name "Easter", and many other things in our culture. Jesus has said, "I am making everything new!" (Rev. 21:5). Most importantly, He knows my heart.
My mom and her beau took us out to brunch after church. Upon coming home, I noticed that even my native plant species were looking droopy. We are
sorely
lacking rain!
So I watered them and a few others around the front door. I keep my trusty watering cans under my sink in the kitchen and any leftover bits of water from glasses gets dumped in here, so that I do not have to fill the cans as often in order to water my plants. Actually, I think I will put the smaller one in the shower to catch whatever water it can too.
I was feeling a bit crabby. I'm sure it's got to be PMS creeping up on me! :( The weather was beautiful, the day lay before me and I just felt this grumpiness stirring withing me. I took some deep breaths, went outside and cut some yarrow and arranged it for something pretty to look at.
Earlier, I had spent some time with my Bible. Now I picked up my iPod to listen to on the way to Whole Foods. I listened to this week's installment of
The God Journey
. Excellent and inspiring as always!
I made my way to Whole Foods in downtown Sarasota. They had a couple of guys playing live music outside the store. My mood began to change...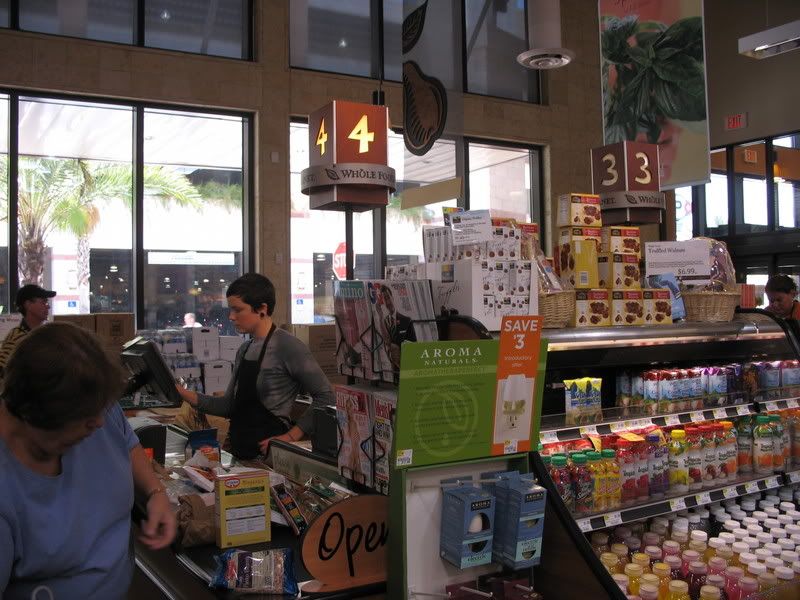 Back at home, I unloaded my bags. Are you using cloth bags for your shopping yet? There are many, many places to find bags on the internet. One idea to try is to post a request on a local Freecycle if you have one in your town here in the U.S. I was actually going to do this, but my friend,
Jessica
, heard about that and sent me a bunch that she didn't want! Thanks, Jessica!
Don't forget to use your bags at places other than the grocery store. I'm in the habit of buying groceries with my bags, but get so frustrated when I am in Target or a craft store or someplace like that and realize I've forgotten my bags. If I have managable items without a bag, I'll go that route, but I'm working harder at remembering to take them with me everywhere. Incedentally, I don't just leave them in the car, because we also use them for library books and various other things and they are just more handy to have them available inside the house on their trusy hook! I've posted more about my love of cloth bags (and napkins)
HERE
.
Then it was time to chill for a bit... to take out my trusty supplies, some music, and just sketch for a while...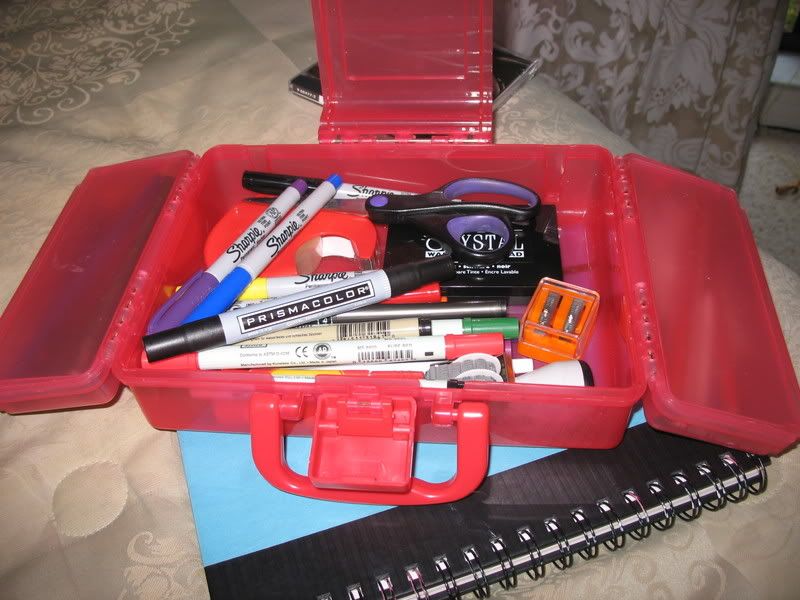 I took a break amidst my sketching to get up and make some granola.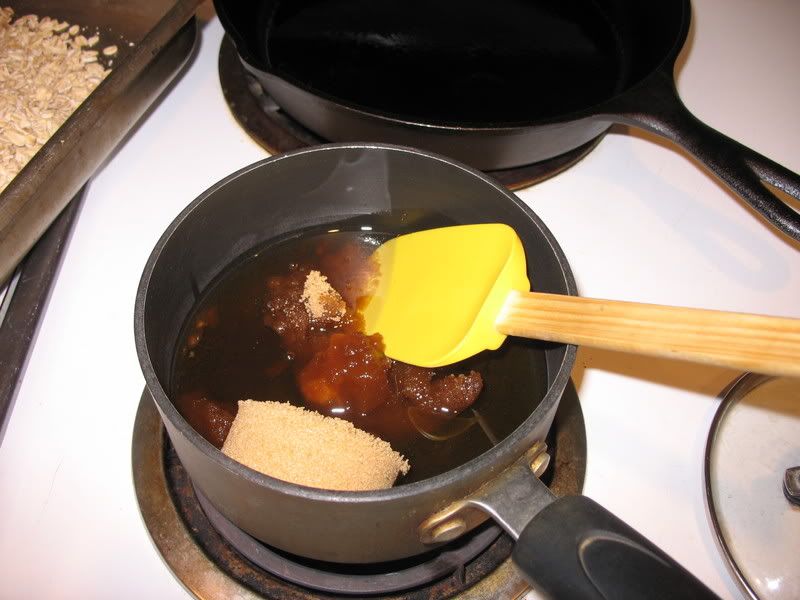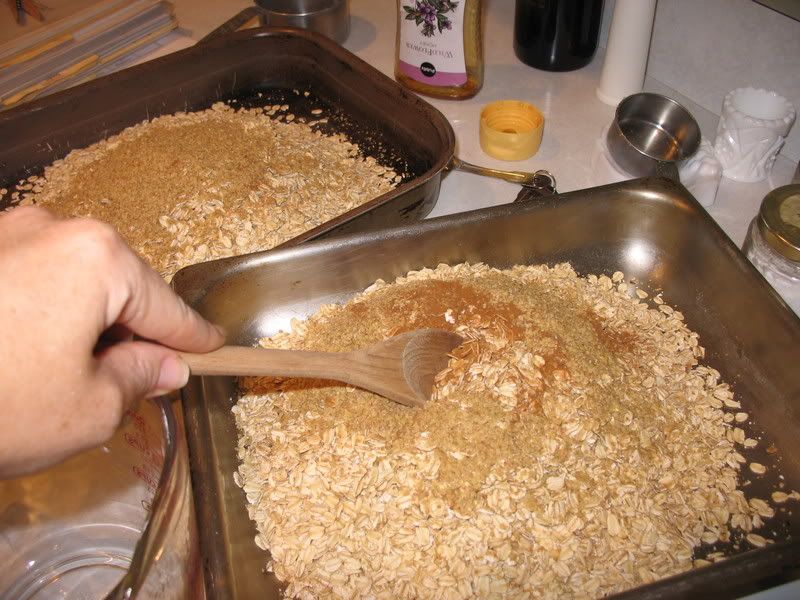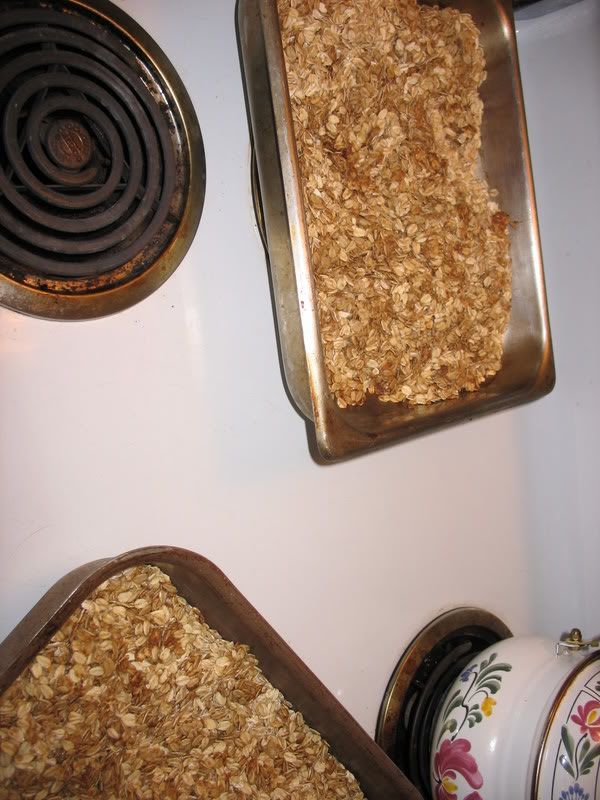 Back to the drawing board. I was filling in some designs with watercolors and watercolor pencils for my May calendar.
Then it was time for our evening stroll. We walk every evening.
Back at home the girls watched the last few minutes of "Americas Funniest Home Videos". It's one of a
very
small handful of shows they watch and only one of two they watch with regularity (the rest are cartoons at both Grandmas). It's become a Sunday evening tradition.
While Paul was reading the latest installment in the Nancy Drew mystery to the girls for bedtime, I had a bowl of Mexican rice with black beans for supper (weekend meals are more random here - we do our regular sit-downs the rest of the week) and finished the calendar background.
Then it was a few minutes of a show with Paul and then time for bed!
Thanks for hanging out with me on my day! :) Now I have to get moving on
this
day! Welcome to the new week, everyone! :)