Image Courtesy of allposters.com
I
sn't she lovely?
Earth Day is one of my favorite days. Did you do anything special today to celebrate Earth Day? It is always my hope that people will remember the day and commemorate it in some way with their children or in some way that others will remember and think to make changes in their daily round. There are SO many things that need doing and there are so many things we
can
do. Start small if you must, but please, please, start. And don't stop. Keep thinking of new ways to live in greater harmony with the world. There are so many helpful websites out there that list many ideas for change that is beneficial, challenging, and
fun
! I have some links in my sidebar that are very interesting. Sierra Club is another one and they are hosting a
2% campaign
. Their site says:
The world's scientists agree: Global warming is real, here, and happening faster than anyone predicted. But scientists also say we can curb global warming and its consequences -- if we take bold, comprehensive action now that adds up to an 80% cut in carbon emissions by 2050. That's a do-able 2% cut a year for each of the next forty years.
To reach our goal -- to build a cleaner, smarter, and safer energy future to meet and overcome the most urgent challenge facing us, to protect our children and theirs -- we must all be part of the solution. You, me, businesses, and government -- all have a role to play. To cut carbon emissions 2 percent a year for each of the next 40 years means we must start right now to make different, better decisions about the energy we use at home, at work, and as a nation.
We won't succeed without your help. That's why we are asking you to: Be Part of the 2% Solution.
One thing I am attempting to do as of Earth Day 2007 is to buy more locally as well as purchase things with less packaging. Again, these challenges are also fun. Purchasing locally means that I get to meet and talk to real people when making my food purchases. It becomes more of a pleasure to shop when I shop within and know members of my community.
This weekend I visited the farmers market in downtown Sarasota. It's not very close to me (about a 25 min drive), but it is right next to Whole Foods Market where I like to pick up things for our family about once-a-month. I bought these beautiful flowers from a local, organic farmer for only $3.00!! What a treat... I should have bought two bunches! They really brighten up the dining room.

At Whole Foods, yesterday, I bought as much food in bulk as I could. I like to buy beans (filling plastic bags I have brought from home) and prepare them ahead of time and freeze them in 2 cup batches for use in recipes.

I would like to start collecting recipes here that can be used as alternative to store-bought, packaged versions. I would like to find some good recipes for things like ketchup and mustard. I just made some mayonaisse (soy based) this weeked and I'll see how the family likes it. If it goes over well, I'll post a recipe and also keep a permanent link in the sidebar. If you know of good recipes like this (your own or links to pages), please let me know in the comments. If you post one on your blog, I will happily link to your post in my sidebar.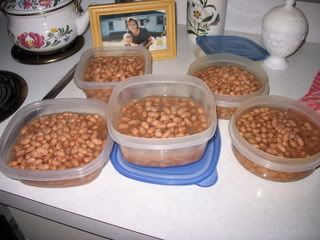 Three cups of dried bean yielded over 10 cups of cooked beans. These will be used primarily in the vegetarian chile that I make and refried beans. My recipe for refried beans follows.
Refried Beans
All seasoning is to taste and you can easily double the recipe.
Mash beans (with the cooking liquid) by hand in a bowl or in food processor.
Add to beans:
1 t salt
1 t chile powder
1 t cumin
1/2 to 1 t garlic powder
1 - 2 t onion powder or flakes
Saute this in about 2 T of canola oil on medium heat until the beans are warmed through and have reached the consistency you like.
Tell me about things you are commiting to this year! Hearing things people are doing gives me more hope for our children's futures. I would love to hear from you. Happy Earth Day, everyone!